NYSUT sues the state over funding, safety, accommodations
The statewide union this week filed a lawsuit against the state over reductions in school aid for districts across New York, seeking the release of money withheld in July, August and September and an injunction against future withholding of or delayed school funding payments. In addition, NYSUT this week filed a health and safety complaint on behalf of members of the Orleans-Niagara BOCES local union. In legal action on behalf of other local unions, NYSUT went to court to fight for deserved COVID–19 related accommodations that were denied in Watkins Glen and Yonkers. (Photo: Hundreds of empty chairs at a news conference represent thousands of educators across the state facing layoffs.)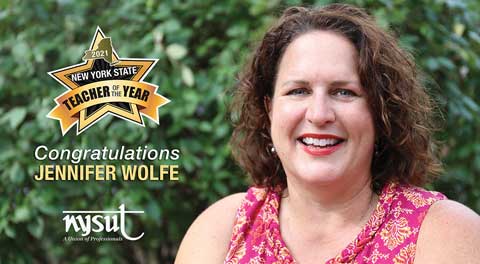 Union lauds Jennifer Wolfe, Teacher of the Year
NYSUT this week congratulated veteran Long Island educator and teacher mentor Jennifer Wolfe on being named the 2021 New York State Teacher of the Year. A high school social studies teacher and member of the Oceanside Federation of Teachers, she received the State Education Department honor for her work with students and empowering educators to take on leadership roles.
Kudos to the four finalists: North Syracuse Education Association member Sara Bambino; South Colonie Teachers Association member James Brown; East Greenbush TA member Chelsea Dyer; and Kings Park Classroom Teachers Association member Victoria Gentile.

Step up for Making Strides Against Breast Cancer in October
Again this year, NYSUT is a flagship sponsor of the American Cancer Society Making Strikes Against Breast Cancer walks all over the state in October. The support of local unions drives this effort that supports life-saving research and commemorates those we have lost. Start organizing now and join NYSUT's team! (Photo: NYSUT's Syracuse Regional Office is promoting drive-thru events with pinked-out cars in Syracuse and Utica.)
More news
Check us out on Facebook and Twitter and Instagram.